President Donald Trump's 2016 election opponent Hillary Clinton and his former U.S. ambassador to the United Nations Nikki Haley on Monday virtually concurrently denounced his determination to withdraw American troops from northeastern Syria forward of an anticipated invasion by Turkey, abandoning the Kurds who helped combat ISIS.
"Let us be clear: The president has sided with authoritarian leaders of Turkey and Russia over our loyal allies and America's own interests," tweeted Clinton, who has continued to be at odds with Trump. "His decision is a sickening betrayal both of the Kurds and his oath of office."
A minute later, Haley, who was thanked by Trump for her ambassador service when she resigned in late 2018, referred to as his determination "a big mistake."
"We must always have the backs of our allies, if we expect them to have our back. The Kurds were instrumental in our successful fight against ISIS in Syria. Leaving them to die is a big mistake," Haley tweeted, together with the hashtag #TurkeyIsNotOurFriend.
Syria's Kurds, who had been the United States' predominant allies in preventing ISIS within the area, warned that Trump's determination late Sunday to tug out of Syria may jeopardize their positive aspects within the combat towards the Islamic State group.
But in a string of tweets on Monday morning, Trump stood by his determination, saying that the U.S. was solely alleged to be in Syria for 30 days and bought "deeper and deeper into battle with no aim in sight."
"The Kurds fought with us, but were paid massive amounts of money and equipment to do so. They have been fighting Turkey for decades," Trump tweeted. "I held off this fight for … almost 3 years, but it is time for us to get out of these ridiculous Endless Wars, many of them tribal, and bring our soldiers home."
Trump additionally made it clear that the U.S. would go away the Kurds on their very own, by tweeting, "WE WILL FIGHT WHERE IT IS TO OUR BENEFIT, AND ONLY FIGHT TO WIN."
"Turkey, Europe, Syria, Iran, Iraq, Russia and the Kurds will now have to … figure the situation out, and what they want to do with the captured ISIS fighters in their 'neighborhood,'" Trump continued. "They all hate ISIS, have been enemies for years. We are 7000 miles away and will crush ISIS again if they come anywhere near us!"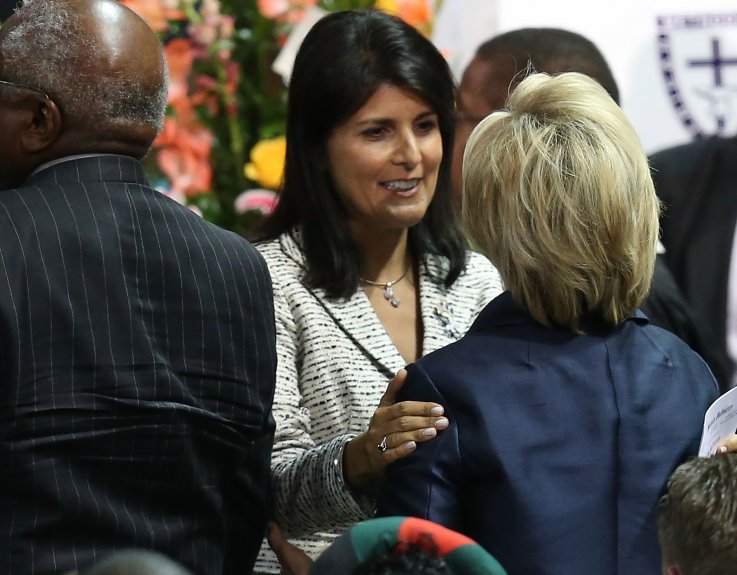 Clinton's criticism of Trump is by no means stunning, whereas Haley's reveals a need to face other than his extra controversial insurance policies.
Speaking at Elon University in North Carolina late final month, Haley stated she was capable of depart the Trump administration "unscathed" as a result of "I told the president the truth."
"We never had a conflict," stated Haley, who beforehand served as South Carolina governor. "He always heard me out. It didn't mean I won all the time, but he always heard me out and had a conversation on it."
"Life is easier when you tell the truth," she concluded.