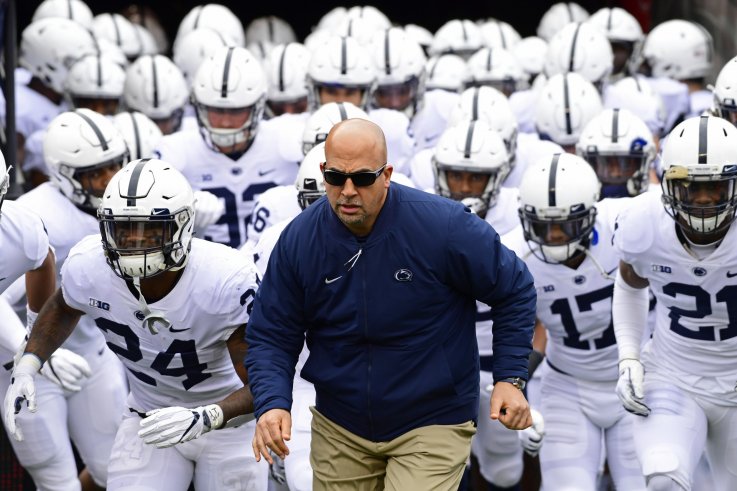 Former NFL and Penn State soccer star Lavar Arrington weighed in on the current letter written by an alum criticizing a Nittany Lion for carrying dreadlocks.
Arrington, who performed at Penn State underneath disgraced former coach Joe Paterno from 1997-1999, stated the emotions within the letter mirror a particular phase of Penn State's followers who miss the Paterno period.
"The reality here is that is very much the culture that Joe Paterno built," Arrington stated. "The culture of, when you come to this school … I came to that school, I'm a kid from the city of Pittsburgh. I'm a Pittsburgh born-and-bred dude. That's city, that's urban. You come to this school and, now you're not allowed to wear earrings, you're not allowed to have facial hair."
Arrington made his remarks Tuesday on FS1's "Speak for Yourself."
The letter, written by Penn State alum Dave Petersen, criticized security Jonathan Sutherland's look, specializing in his dreadlocks."Surely there must be mirrors in the locker room! Don't you have parents or girlfriend who've told you those shoulder length dreadlocks look disgusting and are certainly not attractive," Petersen wrote.
"Though the athletes of today are certainly superior to those in my days; we miss the clean cut young men and women from those days," he added. Petersen, who stated he was a former Penn State season ticket holder, graduated from the varsity in 1966.
Sutherland's teammates Antonio Shelton and C.J. Holmes posted the letter on Twitter. "One of my teammates got this. Explain to me how this isn't racist," stated Shelton in his tweet with the letter.
Arrington stated that the letter portrays a divide between older followers who nonetheless idolize Joe Paterno's teaching philosophies and youthful followers who've embraced the present tradition of Penn State set by head coach James Franklin.
Paterno was dismissed from the workforce in 2011 amid a serious youngster intercourse abuse scandal, and the varsity has been making an attempt to distance itself from the previous coach's repute. Paterno was not recognized for being racist, however his repute might present the cultural variations between former and present coaches.
"What you're seeing here is a disconnect," Arrington stated. "Those kids, young men, who saw the letter and were offended by the letter—which they should've been offended by the letter—they know nothing about Joe Paterno. Joe Paterno's been gone. They may know some of the things that happened in that past, but they're not connected to that past. The coach is not connected to that past."
Franklin defended his participant throughout a press convention on Tuesday. "The football that I know and love brings people together and embraces differences," Franklin stated. "Black, white, brown, Catholic, Jewish or Muslim, rich or poor, rural or urban, Republican or Democrat, long hair, short hair or no hair. They're all in that locker room together."
Although he didn't subject a proper apology, in line with the Tribune-Democrat, Petersen stated that making a racial or cultural assertion "was not the intent at all."
In a put up on his Twitter account, Sutherland managed to acknowledge the letter with kindness."Although the message was indeed rude, ignorant, and judging, I've taken no personal offense to it because personally, I must respect (him) as a person before I respect your opinion," Sutherland wrote. "At the end of the day, without an apology needed, I forgive this individual because I'm nowhere close to being perfect and I expect God to forgive me for all the wrong I've done in my life."