Fox News correspondent Jennifer Griffin reported Wednesday that sources say President Donald Trump "went off script" and "essentially greenlighted" the Turkish navy operation in Syria throughout his cellphone name with Turkish President Recep Tayyip Erdoğan, a choice that has shocked the U.S. navy.
Three days after Trump introduced a startling resolution to maneuver U.S. navy forces away from the Turkish border, Turkey launched airstrikes as we speak on suspected positions of Syrian Kurdish forces in Ras al Ayn, in northeastern Syria. Kurdish troopers have been essential U.S. allies within the battle towards the Islamic State militant group (ISIS).
"The bloody civil war in Syria has been going on for more than eight years now and has become the breeding ground for a proxy war between Russia and Iran, and the United States and Turkey," Fox News host Shepard Smith mentioned on Wednesday afternoon. "Russia and Iran prop up dictator Bashar al-Assad, who uses chemical weapons to murder his own people. U.S. troops have been fighting side-by-side with those Kurds against the Islamic State."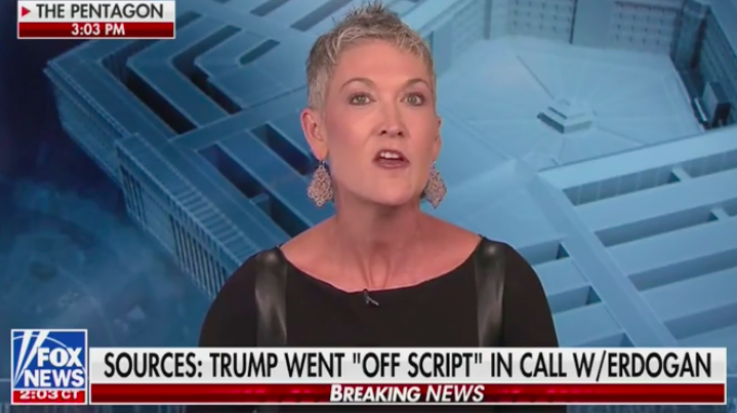 In a statement launched by the White House after information of the invasion started making headlines, Trump denounced the offensive, calling it a "bad idea," however reiterated that he stands by his resolution to drag U.S. troopers from the world as a result of he would not wish to "fight these endless, senseless wars."
Griffin reported dwell on Fox News that "well-placed" sources instructed her that Trump "went off script from what his national team gave him as talking points for his phone conversation with the Turkish president."
"Shock continues to reverberate through the U.S. military that the White House has essentially greenlighted this Turkish operation during that conversation," she continued. "As one senior military source put it to me, 'a lot of people will die.' A complete withdrawal of U.S. forces from Syria is now all but assured."
The sources additionally instructed Fox News that the "Turkish operation is much broader than originally believed, far wider and deeper than expected," Griffin reported. "This Syrian Democratic forces, the Syrian allies of the U.S., are requesting urgent air support from the U.S. military and the creation of a no fly zone. We learnt that President Trump has ordered the U.S. military not to help."
She went on to clarify that U.S. navy commanders warned Trump and the White House that their resolution to drag the troops "could lead to the ethnic cleansing of the Kurdish fighters, who fought along U.S. forces to defeat ISIS," however the present administration "ignored the advice" of those officers.
The invasion has prompted a brand new wave of criticism towards Trump from a few of his usually-staunch GOP allies. Senator Lindsey Graham earlier as we speak urged the president to "change course while there is still time," and mentioned he prays for "our Kurdish allies who have been shamelessly abandoned by the Trump administration."