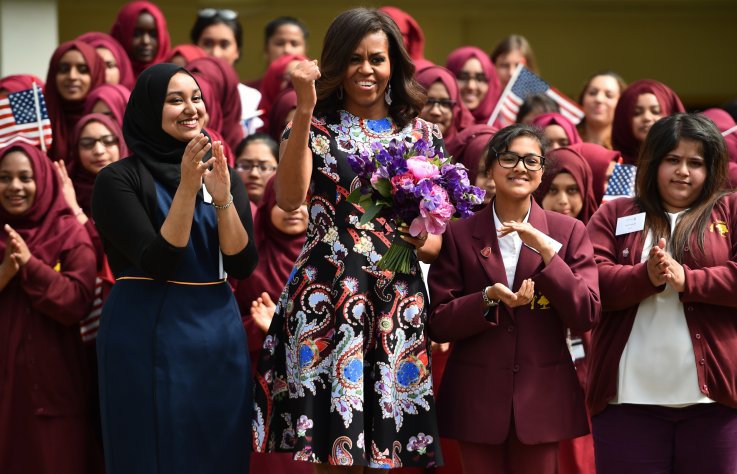 Established by the United Nations in 2012, International Day of the Girl "aims to highlight and address the needs and challenges girls face, while promoting girls' empowerment and the fulfillment of their human rights."
The UN has recognized the theme for this yr's International Day of the Girl as "GirlForce: Unscripted and Unstoppable," and can use the event to "celebrate achievements by, with and for girls."
Find a few of the biggest quotes about woman energy beneath.
"I am an example of what is possible when girls from the very beginning of their lives are loved and nurtured by people around them. I was surrounded by extraordinary women in my life who taught me about quiet strength and dignity" —former first girl Michelle Obama to a G-20 viewers in 2009
"To all the little girls watching…never doubt that you are valuable and powerful & deserving of every chance & opportunity in the world." — Hilary Clinton, in her 2016 concession speech
"Since our leaders are behaving like children, we will have to take the responsibility they should have taken long ago," —16-year-old local weather activist Greta Thunberg in a 2018 speech on the United Nations local weather summit.
"Many people say that Sweden is just a small country, and it doesn't matter what we do. But I have learned you are never too small to make a difference." —Greta Thunberg
"Dear 19-Year-Old Laverne, I want you to know you are beautiful and you are not what all those people who don't understand you say about you." —actor and LGBTQ activist Laverne Cox in People journal
"It's a good thing I was born a girl, otherwise I'd be a drag queen." —Dolly Parton
"No struggle can ever succeed without women participating side by side with men. There are two powers in the world; one is the sword and the other is the pen. There is a third power stronger than both, that of women." —Nobel laureate and women schooling activist Malala Yousafzai in her memoir "I Am Malala"
"We must intensify our resolve to change cultural practices that limit girls and women to specific roles in a thinly veiled attempt at keeping them steps below their male counterparts." —First girl of Rwanda Jeannette Kagame
"When we invest in women and girls, we are investing in the people who invest in everyone else." —Melinda Gates
"Above all, be the heroine of your life, not the victim." —author Nora Ephron in a 1996 Wellesley College graduation deal with
"Who run the world? Girls." —Beyonce in "Run the World"