The Trump administration has been hit with yet one more lawsuit over its immigration insurance policies, with the American Civil Liberties Union (ACLU) main a lawsuit towards the federal government over its widely-condemned "safe third country" settlement with Central American nations.
In the lawsuit, which was filed on Wednesday, the ACLU, National Immigrant Justice Center, Center for Gender & Refugee Studies and Human Rights First accuse the Trump administration of placing asylum seekers' lives at risk by forcing them to return to the area they fled.
Already, the Trump administration's "safe third country" offers have seen asylum seekers reaching the U.S.-Mexico border by Guatemala despatched again to that nation underneath the premise that Guatemala is secure sufficient for them to make their claims there. The U.S. has additionally signed comparable offers with Honduras and El Salvador and is anticipated to ultimately begin sending asylum seekers to all three Northern Triangle nations.
Katrina Eiland, an legal professional with the ACLU's Immigrants' Rights Project, accused the Trump administration of successfully creating "a deadly game of musical chairs that leaves desperate refugees without a safe haven."
Eiland additionally argued that the "safe third country" agreements stand in violation of U.S. and worldwide regulation.
"The administration is illegally trying to turn away asylum seekers and pass the buck to other countries that can't protect them," the legal professional stated.
Rights teams have maintained that asylum seekers ought to have the fitting to file their claims within the U.S. until they are often despatched to a different nation by a sound secure third nation settlement.
"However, the country must first provide 'access to a full and fair procedure for determining a claim to asylum' in order to qualify as safe," they stated in a press launch. "These countries fail to meet that standard."
At the middle of the lawsuit, U.T. v. Barr, which was filed in U.S. District Court in Washington, D.C., are the tales of asylum seekers who've been turned away on the border and despatched to Guatemala underneath the U.S.'s secure third nation settlement, no matter whether or not they're from there.
Among them is the story of the lawsuit's namesake, U.T., a homosexual man recognized solely by his initials, who fled from El Salvador after allegedly being threatened by an MS-13 gang member.
Fearing he can be attacked or killed for his sexual orientation if he tried to stay overtly as a homosexual man in his residence nation, U.T. made the arduous journey to the U.S. border, passing by Guatemala, the place he stated he was subjected to homophobic harassment.
Once he arrived on the U.S. border, U.T. advised rights teams, he was advised he was being eliminated to Guatemala, the place he stated he fears he'll face homophobic persecution.
M.H., one other asylum seeker named within the lawsuit, is a Honduran mom who fled to the U.S. along with her younger daughter in tow.
Her common-law husband and sister-in-law had been working within the transportation enterprise in Honduras, and, like many companies within the nation's main cities, they confronted extortion from gangs and had been compelled to pay a daily charge to proceed working.
Eventually, M.H. advised rights teams, each her common-law husband and sister-in-law had been murdered.
Fearing the identical factor might occur to her and her daughter, M.H. determined to flee to the U.S., "only to be sent back into danger," rights teams stated.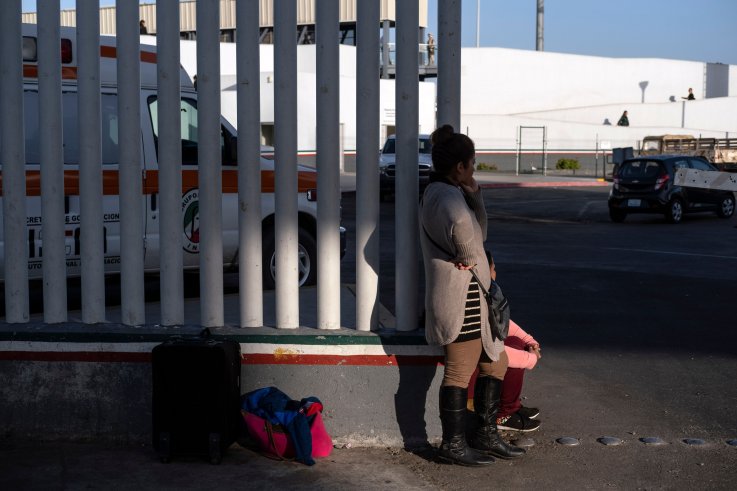 "The plaintiffs' cases illustrate how callous the Trump administration's attacks on the asylum system have become, and how far we have drifted from our own values as a country," Ruben Loyo, litigation legal professional on the National Immigrant Justice Center, stated in an announcement.
"Because of this illegal rule and the administration's perverted application of the 'safe third country' label, the U.S. is slamming the door on individuals fleeing life-threatening conditions and sending them back to a country where they have no guarantee of safety and security," Loyo stated. "Instead, the plaintiffs and other asylum seekers often have no choice but to return to their home country where they are exposed to further harm and displacement."
In an announcement despatched to Newsweek on Thursday, U.S. Customs and Border Protection spokesperson Jim Burns stated that as a matter of coverage, the company wouldn't touch upon pending litigation.
"However, lack of comment should not be construed as agreement or stipulation with any of the allegations," Burns stated.